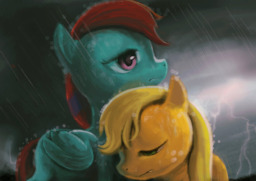 Source
It's the End. Equestria has fallen. Her lands are black and sick. Her skies are dark and cold. All that lives is dead – or corrupted by a foe long thought gone.
Millions of lives are lost, among them heroes and princesses, with its remaining survivors forced to retreat to their last safe haven. For five years, they have struggled to survive, dealing with sieges, rebellions, starvation, and death. The Pony Race is all but doomed.
But hope may yet live.
Not all of the Elements have perished. Two survive, and these two final bastions of Ponykind will make an effort to ride into the coming darkness to end it once and for all...
...or be swallowed by it like everything else.
Written by Rated Ponystar and TwilightUCrazy
Edited by TimeLord_Whooves
Chapters (12)