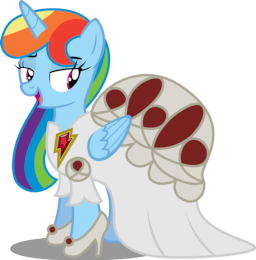 Source
Cadance became an Alicorn after defeating a mighty foe with Love. Twilight became an Alicorn after completing a spell with Friendship. Rainbow Dash is the first pony to create a Rainboom.
What if, instead of just a cutie mark, Rainbow Dash truly was recognized that day across Equestria...or at least by one of it's rulers...for making the impossible happen? How would this affect her life?
To quote Rainbow Dash: "Whoa, whoa, whoa, whoa, hang on a second! I can't be a princess!"
Rated T for language!
Chapters (14)