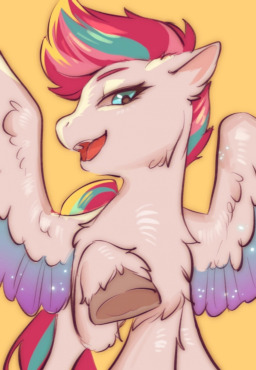 Source
This story is a sequel to To Be a Princess
---
It's a wide world out there, and Zipp Storm wants to see it all. Too bad she spends most of her time locked up in a castle. The burdens of royalty and popularity don't sit well on her shoulders—not like they do on her sister's, at any rate. Her passions and destiny lie outside the walls of the castle or the streets of Zephyr Heights.
So what if she has to sneak out without getting caught? By this point, she's pretty good at it.
Flurry Heart has found a kindred spirit.
---
Part 4 of Equestrian Scions, which began with Your Faithful Disciple; this story is preceded by To Be a Princess, and followed by the conclusion, Shine Like the Sun.
Cover art by Swaybat, used without explicit permission. If the use of the art offends, I will gladly remove it.
09/02 - 9/03 - Despite the controversy in the comments (or perhaps because of it), featured. Thank you, though given the feedback so far I think this is far from my best work.
Chapters (1)