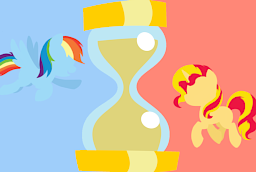 Set in the Sunsetverse
Sunset has been having problems due to being so much older then her friends, while Rainbow Dash is facing disrespect at work and a lack of alcohol due to being so much younger.
After the two discuss their problems, they come to the most obvious solution - Mess around with some old spells and magically alter their ages.
However with Princess Celestia performing a solar flare to celebrate the return of her sister, things might not work as expected...
Chapters (1)