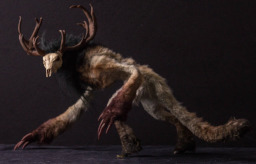 Source
How the mighty have fallen.
My descendants are weak shadows of myself easily summoned and easily banished by the mere emotions of these equine creatures that rule the land.
They are treated as mere pests that must be driven away before an infestation overwhelms a small village at worst.
Their true powers are lost to them after eons of disuse, and only retain the call of ice and snow to use against our prey.
Fear not Brethren, for your last elder brother has been freed, and I will restore our true home to its ageless glory.
The last place to retain the old ways of nature and beasts, if only at its core.
Our Everfree Forest of Wendigo
=========================================================================
Just a cool little idea I had. Enjoy.
FEATURED: 2/12/19
Chapters (2)