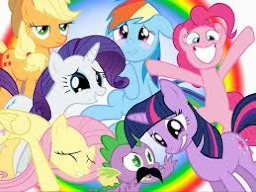 Source
Phil Phillips isn't your everyday slacker. His life practically redefined relaxing and his antics practically redefined ridiculous pranks. One day however, life decides to give Phil a taste of his own medicine when the effects of an ancient comet send him to the magical pastel world of Equestria, but not without consequences. The after effects of the comet give him an odd, unwanted power. Whenever Phil gets wet, he becomes an irresistible mare magnet! Can Phil survive the onslaught of horny mares?
Not a self insert.
Takes place immediately after the events of "Keep Calm And Flutter On."
Side note: All chapter titles will be Led Zeppelin song titles. Because fuck you, that's why. All rights reserved.
Chapters (19)