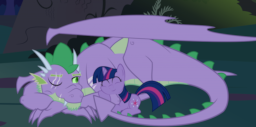 Source
Twilight Sparkle, a young gifted Unicorn is given the opportunity of a lifetime, to be the personal student to Princess Celestia. After demonstrating her abilities at her examination, her first day of studies comes to a grinding halt when a predecessor comes back for revenge on her mentor and Princess. After a narrow escape, the young filly, just beginning to learn her powers finds herself in the middle of the everfree forest, alone and vulnerable with no one to help guide her back to the life that was so swiftly pulled out from under her hooves. Her adventure nearly comes to an end when a pack of timber wolves attack her, however she is saved by one of the most unlikely of creatures, a dragon. With no one else to help her, she immediately follows the disgruntled and solitary creature back to his lair, much to his annoyance. However, he comes to find out that the two of them are far more connected than he could have ever guessed...
In this alternate universe, Twilight is a filly and never hatched spike. He grew up as a wild dragon in the Everfree forest, however deep down past the scales and fire, he will come to realize that perhaps he is something more. The first of a series I plan to create where spike is the "Older Brother/Guardian" figure, however, the bond that they share is the same if not stronger than that in the show. I believe this is an original concept, correct me if I'm wrong, but the idea came to me and I have been excited to show this to all of you
This story has been in my mind for over a year now and I am excited to finally be able to publish it, I hope that you all enjoy, as I am proud to present to you "Friends by Fate"
The cover art was done by me, you can check out more of my work at me DevianArt page
http://bronyofgalifrey9.deviantart.com/
Inspiration for this story came from this picture http://xonxt.deviantart.com/art/Role-reversal-475409314 from the tallented xonxt on DeviantArt, go check him out and give him some love
Make sure to leave feeback (I love to know what you all think) and I hope you all enjoy
Rated Teen for mild blood and gore, nothing too horrible, just light battle injuries.
Chapters (3)