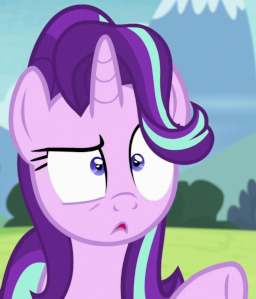 Content
No sex actually happens in the story. Just missed past opportunities, and a non-canonical saucy joke at the end, which I think is the definition of Teen rating + Sex warning. Yes, that's right, "joke"...
---
Blurb
Ellie makes an innocent remark. Maud and Trixie confess some things to Starlight. Starlight does not take it well.
---
Author's Note
There are about 15kish words that are supposed to be between this and Scenes From A Life In Equestria, establishing the start of Ellie's relationship with Rarity, up to her leaving on a business trip for a couple of weeks. But then I re-watched The Road To Friendship and A Rock Solid Friendship and got re-obsessed with Startrix and Starmaud and Startrixmaud all over again, and could not wait. Will connect it to the rest of the series once that catches up.
Chapters (2)