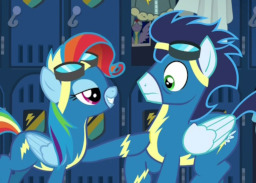 Contains spoilers for Season 6 Episode 7, "Newbie Dash".
---
Even though Dash was soon accepted by the Wonderbolts after her disastrous first performance, Soarin is still unsure about how to approach her, and the situation at hoof.
He knows what he did was wrong... but he doesn't know if Dash knows he's completely sorry...
---
Chapters (1)