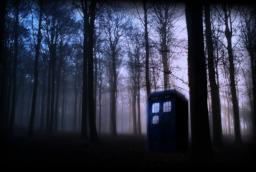 Source
This story is a sequel to Come with me, Luna
---
The Doctor, on the Master's half joking suggestion, takes Derpy as a companion in the TARDIS. He intends this as a relaxing break from his usual shenanigans, but he quickly finds himself trapped in an incomprehensibly large and complicated conflict millennia in the making. He has to escape, but how can do that when he has no idea who or what his enemy is, and the one who trapped him is himself?
Aside from knowing the TARDIS is a time machine, Doctor Who knowledge should not be necessary to understand the story, but you will get a lot more of the jokes.
Prequel to Obama Goes to Equestria.
Chapters (11)