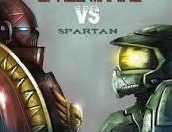 In the grim darkness of the far future... THERE IS ONLY WAR!
It all started when I picked up that Bolter at the convention , the guy was dressed up as a rouge trader and I was looking for a weapon to go with my Dark Angel costume, my mate Sebaste was with me and he grabbed a Assault rifle that the Merchant had, next thing we knew, we're sent to Equestria! Now we're Equestria's only defense against the forces of the Covenant and whatever Xenos and traitors appear in the country.
My name's Sasha ( or rather Sebastian), and this is my story....
Warhammer 40,000 belongs to Games Workshop
Halo belongs to 343i
My Little Pony belongs to Lauren Faust and Hasbro
Rated teen for some mild gore and language
This story has been approved for the War of Shadows
[img]https://orig02.deviantart.net/2fa4/f/2016/027/0/d/war_of_shadows_approved_by_broodmother_marsara-d9pivw6.png[/img]
Chapters (28)