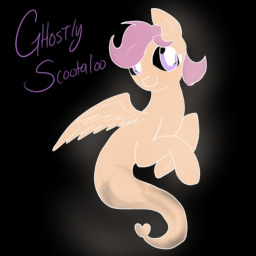 I don't know why I'm even keeping this thing. Who the hay's gonna read this and who the hay would even care?
Being dead sucks.
Based on the awesome Ask Ghostly Scootaloo by RoseXKnight. Please if you enjoy this fic check them out. Characters used with permission.
No extra characters, events or abilities added by me are canon unless otherwise shown to be so on the blog itself.
For an extension of this canon check out Ask Kuleco (warning spoilers for Diary of Ghostly Scootaloo, Ask Ghostly Scootaloo and Rainbow Factory).
Chapters (59)