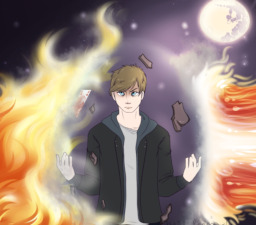 Source
Slain by his best friend, Andrew Detmer finds himself thrust into a world of myths and legends made reality. How can he possibly maintain his apex predator mindset in a world with creatures the size of mountains, whose rulers are capable of moving the very heavens themselves, who can tear him asunder with but a glance if they so choose. He doesn't want to make enemies, but he isn't in a rush to make friends either. All he wants to do is what he wasn't able to accomplish on his own world. Travel. He wants to travel this new land, being the first and only human being in Equestria, he wants to make the most of his indefinite stay.
Cover art made by BlueKazenate, commissioned by me.
Chapters 1-7 proofread and edited by Pree Spunkables.
NOTE: Prerequisite knowledge of Chronicle the movie is recommended, but not entirely needed.
Featured:
7-25-16
5-16-17
5-27-17
8-12-17
11-28-17
Chapters (25)