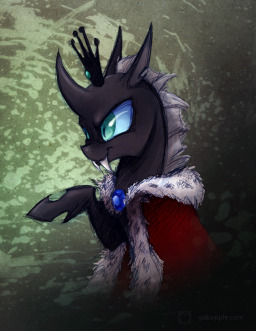 Source
Pandinus Imperator (You can call him Pan, he won't mind) is knocked back in time during the Canterlot Invasion, and accidentally kills King Sombra on arrival. Instead of being executed, the changeling is surprised to find himself being hailed as a hero, and is promptly put on the throne as the new monarch, the Crystal Emperor. However, Pan now faces a great many problems, among them Celestia and Luna, who seem certain that the changeling is secretly up to no good, as well as several political factions secretly plotting to undermine his reign. There's also the tiny problem of the constant snowstorm that threatens to cut the city off from the outside world permanently.
The Crystal Ponies need a hero now more than ever before. Why did they get a changeling instead?
While not truly a part of Bucking Nonsense's Changeling-Verse, the same rules regarding changeling abilities and society apply.
Cover image provided by gabapple, used with permission.
Chapters (35)