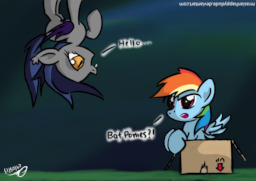 Source
Long ago, before the banishing of Luna, Equestria was home to six races, not just three. In addition to the stewards of the weather, the earth, and of arcane magics, there were also the Changelings and their Queens, the harvesters, but not thieves of love, who spread it across the land, the Fel Ponies, those who guided the souls of the dead, and finally, the Noctus Ponies, or bat-ponies, who helped guard the night.
For a time, harmony between the six was maintained in full, but over time this once proud family grew distant. The Changelings became corrupt and greedy, and the Fel Ponies began feeding upon dark magic. The former left the lands and the latter were banished to Tartarus.
At that, only the Noctus Ponies remained... the strangest and most misunderstood of the three, due to their need for blood. A steady fear of them had always remained among of the populace, but with the help of Princess Luna, their reputation remained noble. However, when she became tainted by the Nightmare, they became tainted as well - at least in the eyes of the populace.
They were forced to flee. To hibernate for many years.
Now, two years after Luna's return, her, along with Princess Celestia and Twilight, have begun turning the wheels of change: their goal to unite the six races once more - starting with those who helped watch the night.
The minions of the night will return in full force.
Chapters (2)