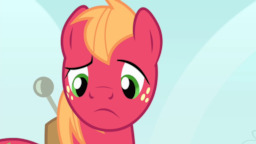 Source
Big Mac doesn't say much. That's just his way. However, when a routine medical exam reveals he's going to lose his voice, he decides he'd better get his last round of speaking in while he still can. Saying a few last words to his friends (and asking out a certain schoolteacher) is all he planned on doing. If only he understood the full repercussions of opening his big mouth.
---
Featured on Equestria Daily!
Reading by DRWolf: Chapter 1 Chapter 2 Chapter 3
---
The original version of the story took 12th place in The Writeoff Association's July contest, "A Matter of Perspective"
Chapters (3)