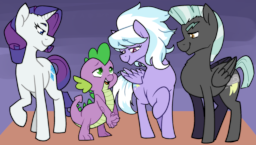 Cloudchaser is in a bad relationship. Her coltfriend loves her, there's no doubt, but she just doesn't feel that same spark she used to. Every date feels like a chore, every kiss a punishment.
However, after some bad advice from her sister, she thinks she's found a solution to her problem in the form of a particular dragon.
Of course, their actions have consequences.
A collaboration between myself and CategoricalGrant.
Cover Art: Probablydnon
Chapters (1)