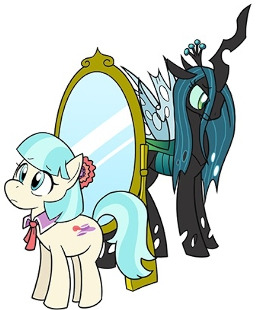 Note to future readers: This is the FIRST installment of the Two Sided series. Once the other stories are released, more detail will be added. Until then, enjoy the story.
Two months have passed since Coco Pommel, aspiring fashion designer, left her last job to pursue her dream. Unfortunately, Coco's search for a job in the world of fashion have been fruitless, all of them leaving her empty-hoofed and forcing her to take up work at a local coffee shop.
However, Coco's luck finally turns around when a mysterious customer enters the shop to offer her a job that will test her skills in making a dress "fit for a queen." Unbeknownst to the mare, there's more to this customer beneath the surface, and his offer has more than just dressmaking in a store...
(The artwork is by the DeviantArt artist: runeechan. Link to her Deviant Art account: http://runeechan.deviantart.com/ )
Chapters (59)