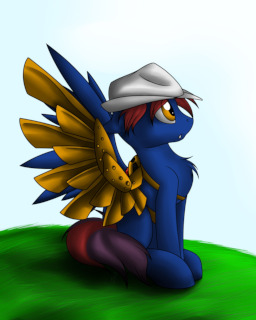 He had it, everypony's dream. But what happens when fate delivers a blessing and a curse in the same breath? What is given is taken away, leaving one young colt to pick up the pieces. After the death of his father, he travels from town to town in search of answers and a way to repair his father's last gift to him. According to his out-dated map, the next stop in his journey was a small, unimportant town. A town by the name of Ponyville.
[Set Before Season 3]
Co Developed with the authors: Metal Pony Fan and theRedBrony
Editor: bahatumay
Credit to Fixing Original Concept Idea: theRedBrony and also thanks to Bad_Seed_72 for extra help on details in certain chapters and scenes.
Credit for Story Art Goes To: Kyro King
Credit for Bonus Art Goes To: Metal Pony Fan
Chapters (20)