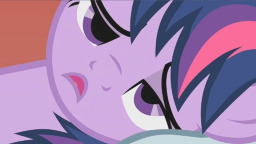 Ever had one of those days where everything's just gone wrong, one problem after another?
Of course you have.
Ever had one of those days when you wake up to find you've accidentally switched places with your counterpart in a world where you and all your friends are stallions?
...No?
Maybe that's just Twilight, then.
But the Princess of Magic isn't going to let a little thing like being in the wrong universe ruin her day. She has a schedule - a checklist! - and it matches up with this Dusk Shine's perfectly. Apart from the names and the genders, everything seems to be a match, and Ponyville has seen much weirder things since she moved here.
Being stallions or mares shouldn't make her friends that different. What could possibly go wrong?
Chapters (9)