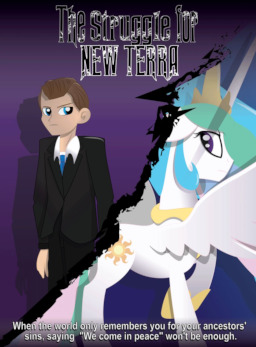 Source
Cover art by EternalCha0s
Coauthor: Darksonickiller
Editors: Leapingriver, General Soarin, BrastaAura17, Solar Flare Charger, and The Zealot
"Long ago, before ponies existed, the world was ruled by another race. This race ruled the world alone for over six thousand years. Six thousand years of war and bloodshed. This race fought against each other over almost anything. They did not know harmony, only chaos.
This race nearly destroyed the world in their conflicts, before vanishing without a trace. Nopony knows if the two-legged monsters still exist somewhere in the world, but this much is certain: they were a threat to the whole world, and if they still exist, they still are."
–Excerpt from The Age of Man, by Starswirl the Bearded, published 15 CR.
"We were alone for over six thousand years. In that time, we nearly destroyed ourselves due to our own foolishness. We fought our own kind for some of the dumbest reasons, and as a result, we almost wiped ourselves out in World War III.
But praise the Almighty that we did not. Only a few hundred million survived the war, but that war finally convinced us to stop war forever. The planet was scarred, and it needed healing. There weren't enough of us to heal the planet in a timely manner, so Man did one of the most wonderful and terrible things possible: create new life. New sapient life. Gryphons, dragons and ponies. We created them to be our friends, but they became our enemies when we tried to fight again using them as weapons. They decided to destroy us, and we had made them too strong, so we did the only thing we could: we hid underground. Here, in the caverns that house the Republic of New Terra, we seek to ready ourselves to make amends for our sins against life and God after rejoining the surface world.
But that is a long time away. Humanity has a long way to go before we breach the surface. But New Terra will rise someday. Never forget that."
–Excerpt from A History of Exile: Volume I, by Trevor Williams, published 3246 AD.
"New Terra will rise."
That phrase has been repeated on billions of lips in the secret underground caverns for years now. The time has almost arrived. Will the world be able to handle the return of the humans of old? Will the humans be destroyed for their sins against the world? Or will they be forgiven and be granted peace? Humanity can only hope and pray for the latter as the Day of Return fast approaches.
Chapters (3)