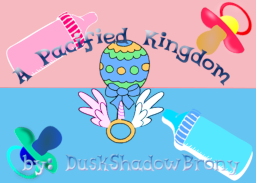 WARNING/ALERT/DANGER/CAUTION: THIS STORY CONTAINS AGE REGRESSION/DIAPERS/ETC. DO NOT READ IF YOU DO NOT LIKE. PLEASE READ DISCLAIMERS AT 'MORE'

The Block Kingdom, a foreign empire outside of the reign of Celestia and Luna, has asked that a Royal Representative of Equestria come to visit. In order to help him develop his social skills and public relations, Princess Luna has sent Dusk Shadow to meet up with the Block Kingdom's Princess.
Fun, games, and general chaos will certainly happen. What else do you expect when you have a kingdom controlled by smart little fillies and foals?
Dusk Shadow, an overly serious, and not well-known Prince of Equestria is not exactly happy about his task. However, duty calls, so he accepts his responsibility. From there, what started as a simple visit becomes something he never expected, and a change he needed. He will learn things that he was unaware of before, and rediscover what he lost a long time ago.
If you actually enjoy these kinds of things, and read the story, feel free to leave a rating and a comment/suggestion. Prejudiced ratings or rating just because you don't like what the story is about, and not the writing itself is just immature. And when a babyfur calls you immature, you really should think about it.

(DISCLAIMERS)
- I do NOT ship with canon characters.
- My OC is my Ponysona, I based him off of myself. Anything that happened in his past has direct correlation to something that happened to my own. He's not made dark to be 'cool', it's how I am myself.
- I accept constructive criticism, but not flat-out hate and negativity. Difference: Constructive Criticism: "This is what I liked…. Here's what I didn't like and how you could fix it…" Negativity: "This is stupid, why is it like this? That makes no sense, it's just stupid and wrong."
- I do suffer from a number of issues (PTSD, depression, inferiority complex, etc. All formally diagnosed by various psychologists and psychiatrists), so that may carry over in how I write or interact with my readers. I apologize if I may seem nasty at times.
- Because a lot of people don't READ, I had to include a bunch of disclaimers
Thank you, Zubric, for roleplaying this with me to iron out some details.
Chapters (10)