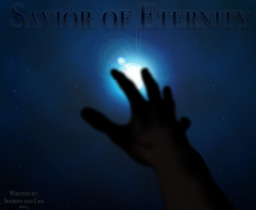 This is the third installment to the Eternity Series:
• Son of Eternity – Slave of Eternity – You Are Here •
NOTICE: Some chapter break and other images aren't working the way they should be. Here is the reason why. So sorry in advance.
The epic of Pinkie Pie and the Immortal Man who's fate is tied to Equestria's. His life will be filled with dangers, choices, secrets, love, and most importantly, beauty. As time flows, the world begins to understand the immortal, and the immortal begins to understand his true purpose in the universe.
The grand veil begins its descent. The pieces set long before time's birth have begun to move across the board of fate. The Ballad which brought forth the universe has reached its finale. Through time and space the ensuing sacrifice shall fight to establish the long forgotten aspirations of the ancients; and in the darkness the great nemesis has sown the seeds of everlasting and impervious evils. All of eternity anxiously watches, for no hope can be assured in the shadowed future of the dying universe.
––––––––––
As a side note: This story is based off of pre-season 4 knowledge when originally conceived. Any future information that may warp this story does not necessarily affect it on pre-season judgment.
Chapters (13)