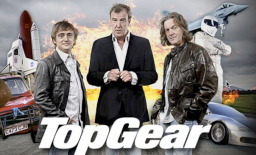 Source
The Producers have long been the bane of the Top Gear team's existence, sending them off into the most dangerous and hilarious of situations in the name of good television. Now follow Captain Slow, Hamster and Jezza as they are sent off again into the unknown as some of the first humans to set foot (Or wheel) into the land of Equestria.
Oh, and the Government isn't exactly on board with this one either...
Teen for language and sexual references.
Chapters (11)