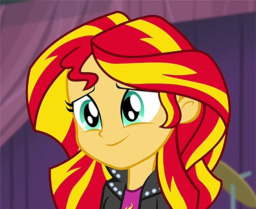 Sunset's favorite jacket is looking pretty beaten up after that whole rainbow laser explosion, and she doesn't know the first thing about fixing leather. Obviously she knows someone who could help her, someone who's already agreed to be her friend. But after everything she's done, she doesn't really think she's in a position to be asking favors. She hasn't earned anyone's friendship yet, and she certainly doesn't deserve anyone's help. Still, she's got no other options. So she'll just have to swallow her pride and beg Rarity to take some pity on her.
Rarity certainly has her work cut out explaining to her how friendship works.
Set after Equestria Girls, but before Rainbow Rocks. No shipping. Just awkward, self-loathing Sunset and generous, understanding Rarity.
Chapters (1)