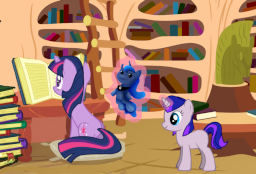 The latest addition to the Sparkle family, Morning Star, takes to Ponyville in the care of her big sister, Twilight Sparkle. Well behaved, talented with magic in her own way, Morning also suffers from Twilight's former affliction; she has no friends, but it's more by choice than by chance.
Happiness isn't all she'll bring into Twilight's Ponyville life. Will the secrets this little filly carries change the relationship between Twilight and her friends?
---
Take place before season 3. In this story Season 2 does not happen in the order of release (Twilight's birthday is after the Christmas pageant for example)
Sex tag is mostly for adult ponies talking about sex.
Chapters (14)