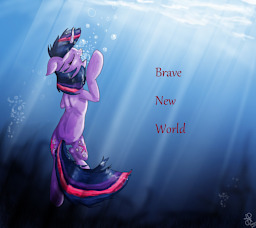 When a drowning Twilight Sparkle is pulled from the ocean by a group of salvagers, she receives news that changes her life: she is now two-thousand years into the future, and Equestria no longer exists. Instead, there is the kingdom of Centuria, ruled over by the seemingly immortal tyrant, King Ganymede.
In this new world, unicorns are a rare sight and advanced technology is shunned by the general public. Twilight finds allies in Kevrana, a salvager with a heart of gold, and Hadran, Kevrana's suspicious and cynical brother. As a war brews in the land, Twilight, with only her new friends and legends of a strange place called the Vale to guide her, must set out to unravel the mystery of how she came to be in the future, and whether or not she can ever return to her own time.
Edited by Eldorado, Toothless the Night Fury, and Comrade Sparkle.
Image by SugarYoshi
Chapters (3)