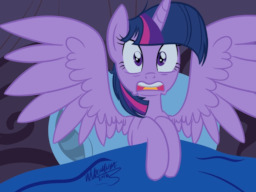 Source
Twilight Sparkle thinks herself a "good girl". But good girls don't have casual sex, do they?
Original title, which The Mare made me change: Princess Twilight Sparkle is in a Bed, But It's Not Your Bed, Because I'm Not Beating a Dead Horse. Rather, She is in a Bed in a Guest Suite at Canterlot Palace, Having Slept With a Cock She Met Last Night at the Gala, and is Now Freaking Out
---
A hearty thank you to my Patreon patrons Singularity Dream, ocalhoun, and Littlecolt!
Chapters (2)