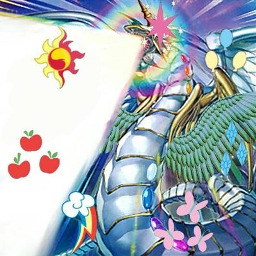 Based on the comics by "Mauroz". When Dustin and his two sisters Erena and Emille transfer to CHS, they meet some new friends and are up for an adventure of a lifetime. There will be real cards, anime only cards and even fan made cards.
There will also be characters from other media. There may or may not be story's for many arcs.
There will be a bit of strong language but not too much.
Formally proofread by Speculore, and currently proofread by Latifan35.
View Cryplify and Prism monsters, Maestro and Necron monsters
---
View Dustin's deck here
View Erena's deck here
View Emille's deck here
View Twilight Sparkle's deck here
View Pinkie Pie's deck here
View Rarity's deck here
View Fluttershy's deck here
View Rainbow Dash's deck here
View Applejack's deck here
View Sunset Shimmer's deck here
View Spike's deck here
View Scout's decks
View Bruce's decks
View Bluebloods decks
View Sombra's decks here
Chapters (12)