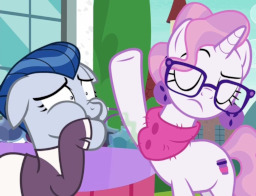 Unicorn Frappuccino might not like to cover her natural scent, but that isn't exactly helpful when she's trying to pick up stallions. Still, with her good looks and natural charm, how much of a problem could body odour be, really?
---
Inspired by the 'natural scent' line in today's episode, but beyond that one joke, contains no spoilers for the plot.
I got 'Unicorn Frappuccino' and 'Minty Mocha' from this Derpibooru comment, but I don't know if they have canon names or not.
Chapters (1)