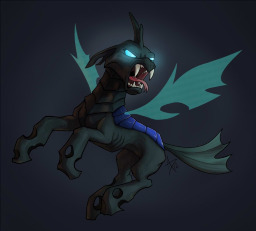 The changelings have shared their love and become more beautiful, more peaceful, more civilized. They have cast away the traditions of the past and accepted the traditions of ponies instead. What a joke. How dare they forget the proud history of changelings? How dare they cast away time-honoured traditions that we have revelled in for generations!
I am a proud Changeling warrior. A hunter. A spy. An infiltrator. Chrysalis had gone mad with power, but changelings are more than one Queen. There have been Queens before Chrysalis and there should have been Queens after her. I will not bend! I accept our treaties, but I will not disgrace my heritage. History, countries, societies, they are written in blood, why is ours so much more shameful? We had a mad Queen, so now our entire history is obviously disgraceful.
I will remain in the faction of changelings that have sprouted under Pharynx. We will be as strong as iron and silent as the shadows. This would never have happened under a proper Queen.
(Not my art. I wish I could draw like that)
Chapters (3)