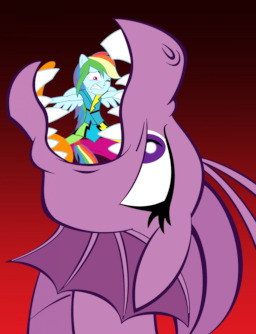 In the climatic finale of the Battle of the Bands, the Rainbooms battle the Dazzlings.
...And fail.
Beaten and broken, the Rainbooms are unable to stop the Dazzlings from achieving their victory and regaining their true siren forms. Now the sirens are back to claim the Human World as their own and become its new rulers.
However, before that can be done, their first order of business is to dispose of their enemies in the one delicious way they know how.
Can Twilight, Sunset and the Rainbooms escape? Or will they all become the Dazzling's sacrifical meal?
NOTE: This is a VORE fic. So if you're squeamish, not into vore or simply don't like it, then don't read this at all.
There's no gore or fatality present.
Chapters (1)