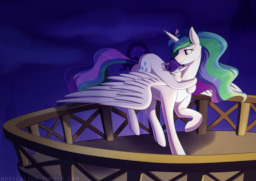 Source
Set in the continuity of Tailor of the Crown, though if you haven't read it, all you need to know is that Rarity took a job to work as a tailor in Canterlot Castle.
---
Avoiding social entanglements at Canterlot galas can be quite a tricky business for Rarity.
Luckily, Rarity has a very beautiful alicorn princess to help with that.
---
amazing cover art by apricalico!
Chapters (1)