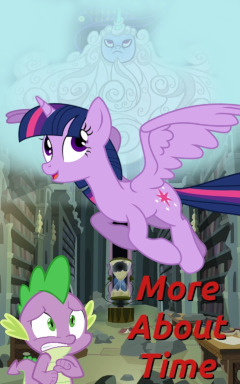 After discovering some more of Star Swirl's unfinished spells, Twilight's curiosity causes her to cast one, in spite of Spike's warnings. To her surprise, the spell doesn't seem to do anything. Frightened that perhaps she repeated her previous mistake from Magical Mystery Cure, she rushes to Ponyville only to find everything is as it should be. After this, she agrees not to try to fix any more spells and goes to sleep...
Only to wake up in the past.
Using this opportunity, she begins to correct past mistakes. There are some setbacks, but overall Twilight believes she is making the world better.
Yet as she seeks to fix the problems of her past, she will find that sometimes past mistakes are exactly what our future needs.
For those wondering about continuity with events in the show, chronologically, I'd say the events take place just before the episode Filli Vanilli. The basic outline of this story was actually planned out before season 4 began and much of it was written before the end of season 4.
This fiction was featured on Dec. 9, 2014 - Now that's a great Hearth's Warming present. Thanks guys.

If you want to know more about the writing process for this story, you can check out my blog post More About "More About Time" for, well, more about this story.
Chapters (20)