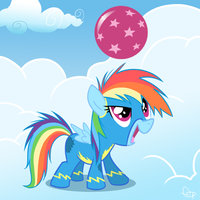 (Taken place prior to "Wonderbolts Academy")
Skyball is the most popular aerial sport in Equestria and well known around the world. The princesses decide to hold an open tournament, the winning team gets 1,000,000 bits in prize money and a chance to face off against the Wonderbolts themselves in a final game.
Seeing her chance at stardom, Rainbow Dash assembles an unlikely team to play in tournament. Can the Ponyville Pegasi rise to the occasion, or will they be grounded by the competition?
Image source: http://browse.deviantart.com/?q=little+wonderbolt#/d48savw
Chapters (5)