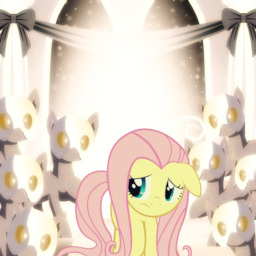 Of death, there are two things that I believe: that it first comes in the form of a memory, and second that it comes wearing the face of a friend. As for when it comes, I can not say for sure, but I would like to think that when it comes, it parts a sea of angels as they crash and scream around it, to lead us to whatever lies beyond. Whatever that may be.
---
A Quills and Sofas Contest Entry for Seer's Colorful Characters Contest: Fluttershy. Originally conceived and written in the span of an hour and edited later. Written with input from Vis-a-Viscera, Flashgen, Snow Quill, Seer, SamG, TheLegendaryBillCipher, and Wish, with further suggestions from HapHazred.
Masked ponies in the background were done by HapHazred and a bottle of whiskey. Thanks Hap!
Dedicated to themoontonite: congratulations on 100 followers and here's to a hundred more!
Chapters (1)