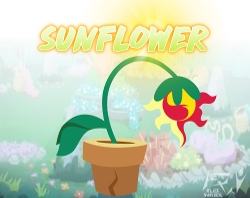 WARNING! Spoilers for Forgotten Friendship
Wallflower Blush is still taking care of the school's secret garden but now she has a friend to do it with. On her off hours, Sunset makes time for the girl even though she still spends time with her other friends. Because going out of her way to be nice to someone that needs it is something she has learned can make all the difference in the world. There's also something special about this girl. Something she can't quite put her finger on…yet.
NOTES
Confrontational in-your-face first movie Sunset comes out of her Rainbow Rocks shell a little bit. ;)
Released same day as Forgotten Friendship. Could not contain Wallflower

CONTENT
Forgotten Friendship spoilers
Innuendo
Some touching
No graphic content
All characters are 18+
Audio reading by Wubcake
Popular Stories 2/17-20/2018. Featured 2/18/2018.
Art by BlackWater (me)
Chapters (1)