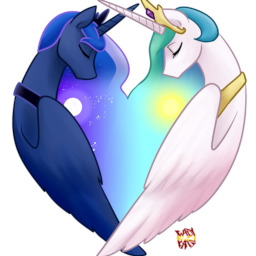 Source
One of my first true attempts at an HIE romance-type story. Mostly, it's just a slice of life, a typical mornings, afternoons, evenings and nights involving a family. A very important family.
It's going to be really sappy and really cheesy.
Posting the chapters where I think they'll fit. You don't know where in order they'll pop up!
Join on the epic journey of a man and his daughter going to breakfast in Canterlot! Will they prevail? Will they have toast? Will there be dancing? Love blossoms, marriage! Skipping everything in between and focusing on those moments in life when everything that has been fought for, cried for, believed in, raged against, forgiven, forgotten...
...happens...
Why, the chapters seem to appear in reverse order... Why?
I was half asleep when I initially wrote this. It was a fun little exercise and I think I feel a little naughty for writing it, and not for any naughty ways. I hope you enjoy it!
This has now been reopened! Each chapter can stand alone, but they are all connected! Please, enjoy!
Rated "T" because of grown-up talk. Sort of.
Chapters (5)