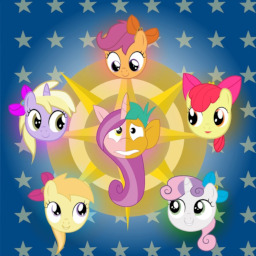 Source
This story is a sequel to Snails 1/2: Vol 2 The Perfect Stallion
---
The life of a colt should be simple, should be fun. Playing sports in the mud, fishing, building forts and tree houses, soap box races. Snails used to love all of that, there was nothing better then spending a hot day at the waterhole swimming with Snips, Rumble, and the other colts.
That seemed so long ago now. That seemed like another life. Ever since falling into that cursed pool, snails life has been non stop, trying to find a cure for the curse, trying to keep his curse hidden, and trying to lead a double life. When hit with cold water, HE becomes Escargot, the leader of the Mini-6, selected by the table to wield the elements of harmony light versions. To protect the castle and Ponyville when the Main Six have duties elsewhere.
This is a duty, a responsibility. So of course the princesses have decided that Escargot and the Mini Six, Noi, Dinky, Apple Bloom, Sweetiebelle, and Scootaloo must attend The Canterlot School for Gifted Unicorns, to ensure they can control the magics safely and responsibly.
Because more responsibility, and more school, is just what Snails was hoping for.
Chapters (5)