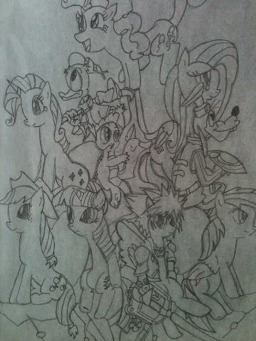 This story is a sequel to Kingdom Hearts: Equestria Girls
---
It has been a month since Sora and Donald had returned from Canterlot High, and Sora decides that he needs to train to prepare for retaking the Mark of Mastery exam, but he needs a new stomping ground to train in. King Mickey suggests that he has, "the perfect place for him", so he sends Sora, Donald, and Goofy to the new world that Sora has opened up from the keyhole he unlocked.
Will this new world be the perfect place for Sora's training? Or will it be just another world that he needs to save from the dark clutches of the Heartless once again?
New Game (If you haven't read Kingdom Hearts: Equestria Girls, click "New Game".)
Takes place after Dream Drop Distance.
Artwork by GundamBrony.
Author's Notes
If you believe Sora's scene in the beginning warrants the "Human" tag, let me know in the comments.
Chapters (14)