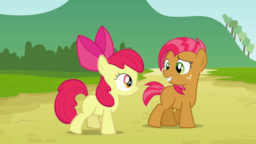 Source
"I can't wait to tell you about my new school! Jeepers, where do I start? So, first day ---"
So what did happen on that first day?
Babs meets a fellow blank flank and gets her out of a tough spot. Too bad Applejack never gave her the chance to tell Apple Bloom about it.
Featured on Equestria Daily.
Chapters (1)