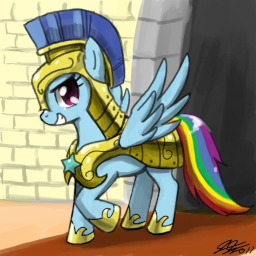 Source
There's a crime wave gripping the sleepy town of Apple-Morepone, and nopony on the City Watch seems to care. Corporal "Rainbow" M. Dash naps through her patrols, her partner Dobby is an infamous kleptomaniac, Captain Rhymes is a drunkard, and the entire Watch is a group of burnt-out misfits.
They're about to meet a batpony (adopted) by the name of Carrot, visiting town to return an overdue library book.
And none of their lives will ever be the same.
---
A crossover/homage to the "City Watch" books of Terry Pratchett's Discworld, written to be readable without any familiarity with the series (though they're excellent, and if you do read them you'll catch my Pratchett in-jokes).
Winner of Aragon's "Comedy Is Serious Business" Contest!
Thank you to Themaskedferret and Caliaponia for prereading, and GaPJaxie for motivation/inspiration!
Chapters (5)