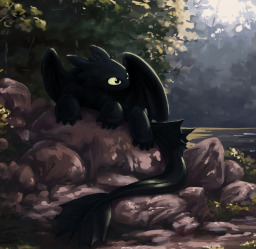 My name is Eric and this is my wife, Saskia. How to Train Your Dragon has always had a special place in our hearts and after the second movie came out, we decided to go a convention together, dressed as Night Furies. What could possibly go wrong?
Apparently, an awful lot.
We bought this Night Fury egg from this guy dressed as the Merchant and we ended up in an alternate Equestria as Night Furies. Well on the bright side, we always wanted to be parents.
A\N The cover is a picture by Choedan-Kal.
Chapters (2)