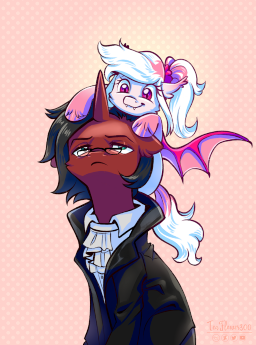 Princesses have this bad tendency to make everything they touch shiny, new and boring. But still the Everfree Forest remained, and Scarlet Script was in need of inspiration. He needed something wild and untamed, something dangerous perhaps that he could write about.
His trip takes an unexpected turn when he is followed back to the hotel by a bat pony filly. Everything else is put on hold as he tries to help her find her parents, which may require the assistance of somepony who works at that School of Friendship he hates, or somepony closely related at least.
What he discovers is that the filly's predicament may be much more dangerous than anything he could have hoped for, and it's up to him to finish her story before it comes back to bite her, so to speak.
My entry for the My Little Pony Renaissance Contest.
Chapters (1)