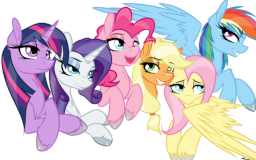 Dating can be rough. Especially if you're a lonely human in the magical pony land of Equestria. But you've got to date. It's only human nature to want a mate, right?
The only difference is, you're a celebrity in Equestria. Everypony knows who you are. So who's fit for you? One of the Mane 6, it seems, would be the best choice. You always felt that the Elements of Harmony had the popularity and personalities to match your own. However, which one was best?
Dating each will answer that question!
Currently in the process of being edited. Featured on FiMFic sometime.
Chapters (8)