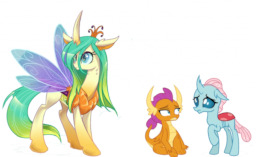 This story is a sequel to Queen Chrysalis Reforms (Accidentally)
---
Tiatarta! The hidden gem of Equestria's resorts. Sandy beaches, colorful locals, and relative isolation make this the ideal vacation destination. So what kind of friendship problem could this tropical paradise possibly have for Smolder and Ocellus to deal with?
And what the HAY is Queen Chrysalis doing here?! And what did she do to her mane?
Reading Queen Chrysalis Reforms (Accidentally) is recommended for context.
Chapters (15)