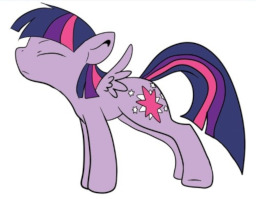 Source
To be honest, this is something I'm posting for my own sake.
MLP still holds a special place in my heart, but I've lost the drive to write in it. But I have half-written stories (and one almost finished) I can't quite bear to leave to rot in my hard drive.
I know not many people read this sort of thing compared to proper, full-fledged stories, but I hope that maybe, where my own words have failed me, your imagination can finish these stories, not with more words, but in your thoughts and dreams.
I'll update this with new portions as I clean up my stories folder, and hopefully I'll find a bit of drive to finish one of these. New genres and tags to be added as I update.
Story 1: Flame, Fire, and Furnace
Once, her name was Twilight Sparkle. But that name had been consumed by the inferno and burnt away, and somepony else was born anew from the embers. Hopefully she could change that. [story cover]
Chapters (2)