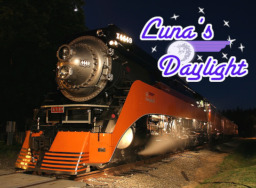 Source
Willard Eperts had considered himself lucky: He'd attained his dream job of stoking Southern Pacific's Daylight Limited at the age of twenty, he'd made quick friends with the engineer, and when the United States dove into the Second World War in 1941, he'd managed to dodge recruiters and keep his dream job by the skin of his teeth.
I did say "had," right?
Now, he's debtor to a princess in a world of talking ponies, and the only way he can repay his debt is through running loads on the Equestrian Railways. It wasn't even his fault for parking the 400-ton machine on that marble floor.
*Disclaimer: The characters of Willard "Willy" Eperts and Murton "Morty" Turner are completely fictional. Any relation to persons, living or dead, are purely coincidental. The records for the true engineers and firemen of the Daylight fleet of locomotives can probably be found within Union Pacific's historical archives. This was just an idea I had that I wanted to write.
Chapters (2)