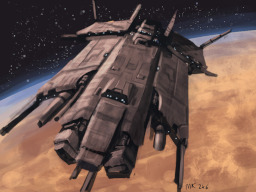 Source
This is my attempt to create a new story arch based partially in the Conversion Bureau Universe. This is a short one shot story.
The Conversion Bureaus have been successful. The ponies were victorious. The entirety of the human race had been successfully ponified... or so it seemed. The truth of the matter however is that humanity was not extinguished. A splinter group of humanity known as the Radical Dreamers had spirited the remnants of humanity away into the vastness of space. Now they make their way on a group of world ships to the distant world of Aeos and to what hopefully is the rebirth of their species. During which the Radical Dreamers intend to forever change humanity for the better.
I hope to eventually create a large story arch based on this story which will begin a thousand years after the events of this story when Humanity and the Equines will once again meet. These Equines will be from another reality and not the one's from the conversion bureau universe. So consider this my parthenian shot to the conversion bureau universe. I have ultimately decided that despite the excellent stories from users such as Chatoyance and Full Metal Pony I do not like the premise behind the universe and I find the very idea absolutely appalling and it makes both humanity and the equines look bad.
Chapters (1)