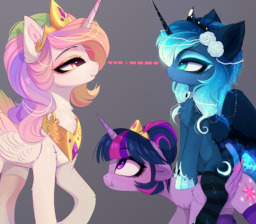 Source
Or: How I Spent Eternity Dating The Princesses
Princess Twilight, for all of her knowledge, didn't particularly know that much about Celestia or Luna's past. In an attempt to figure out more about her peers, she digs up the infamous time travel spell. Jumping at the chance to gather first-hoof knowledge about the only other immortal ponies, she dives head first into the past!
Romance will, eventually, be between Luna, Celestia and Twilight.
This story will include gratuitous amounts of cuteness at times.
Adventure will be contained in certain arcs.
There is time travel and Twilight will be jumping around both Alicorn's lives. But don't think about it too much!
The AU tag is only there due to the Princesses still being there.
Chapters (1)